GIVE THE GIFT OF EDUCATION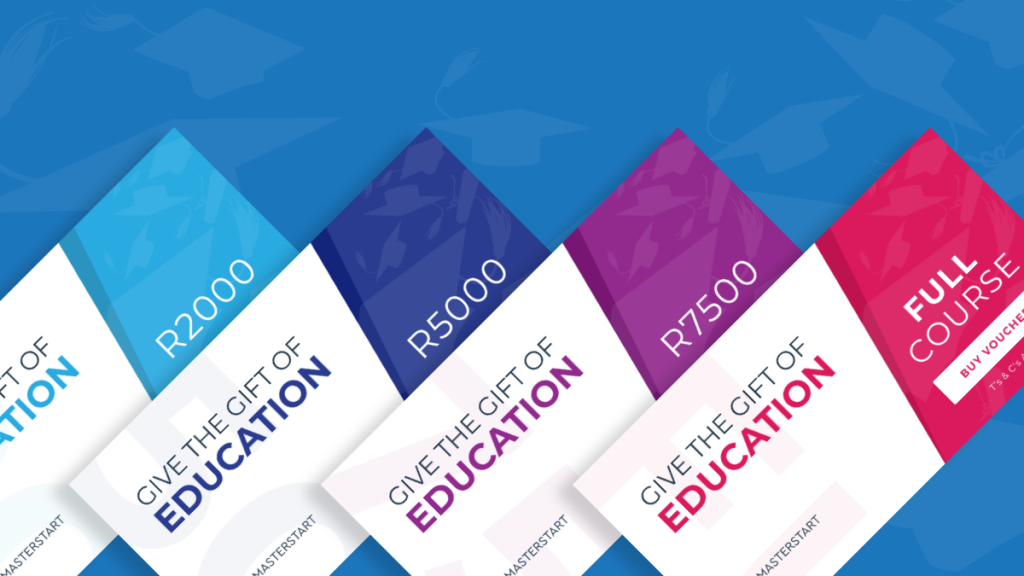 Finding the perfect festive gift for your loved ones is always a challenge. Luckily, we've got you covered this December with gift cards for all of our online courses!
Give the gift that keeps on giving this year with MasterStart gift vouchers!
How it works:
Phone +27 21 201 1167
Indicate the details of the voucher you would like to purchase and make payment
Once you have made payment, an agent will allocate a dedicated voucher to you and the voucher will be sent to person you have gifted
Terms and Conditions
When does the promotion start and end?
The MasterStart Gift of Education promotion starts on 10/12/2020 and ends on 29/01/2021. This is the promotion period during which the MasterStart Gift of Education vouchers can be purchased and redeemed. MasterStart reserves the right to extend the duration of the promotion, subject to these terms and conditions.
Vouchers expire on 1 December 2022 (valid for 1 year). If the voucher is not redeemed before this date, the voucher will expire and the money paid towards the voucher will not be refunded.
Who qualifies for the promotion?
Anyone may partake; there are no limitations as to who is allowed to purchase a voucher.
Which courses does the promotion apply to?
All courses and programmes offered by MasterStart to the general public.
Business to Business (B2B) course offerings are not eligible for the discount.
Please note that this voucher is stackable and can be used with other vouchers.
General
Applicants will be deemed to have accepted these rules and agreed to be bound by them when entering.
These rules are legal and binding upon applicants.
MasterStart reserves the right, at its sole discretion, to cancel, modify or amend the Gift of Education promotion at any time, if deemed necessary in its opinion or if circumstances arise outside of its control.
It is the applicant's responsibility to ensure that any and all information provided to us is accurate, complete and up to date.
By accepting these terms, you consent to MasterStart publishing any and/or all content submitted, this excludes personal information as per the POPI Act.
The clauses in these rules are severable. This means that if any clause in these rules is found to be unlawful, it will be removed and the remaining clauses will still apply.