WIN up to 100% OFF your USB-ED course!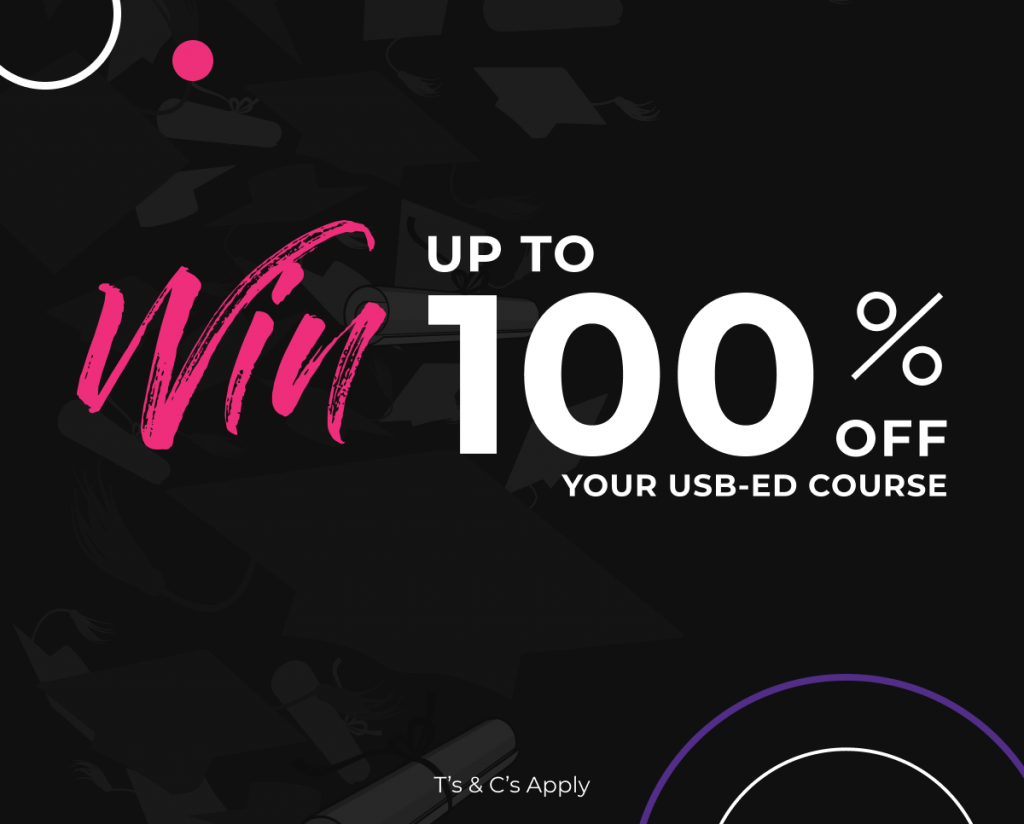 TERMS & CONDITIONS
When does the promotion start and end?
The promotion starts on 26/11/2020 and ends 30/11/2020 at midnight. This is the promotion period. MasterStart reserves the right to extend the duration of this promotion, subject to these terms and conditions.
Prizes to be awarded:
Grand prize cash back discounts of between 75% and 100% will be awarded for MasterStart USB-ED courses on 4 December. Draws to determine winners will commence during the course of the promotion as specified below:
To be eligible for the draw on 4 December 2020, individuals must have made a minimum payment towards a USB-ED course offered through MasterStart by midnight 3 December 2020. The draw will commence only if a minimum of 30 entrants have paid a 30% deposit (or more) towards their chosen course
The following conditions apply to the above:
The grand prize draws will commence 4 December 2020, and the winner will be selected through a fair and randomised process.
If the grand prize winner is unreachable within 48 hours of the draw, MasterStart will redraw and a new winner will be announced.
Judges' decisions are final.
Who qualifies for the promotion?
All natural persons, including South African citizens and foreign nationals, who meet the following criteria are eligible to participate in the promotion:
Who have both registered for and whereby 30% payment has been received by MasterStart towards a USB-ED course or programme by midnight 3 December 2020.
Who enrol for a programme or course specifically offered by USB-ED through MasterStart.
Who does not qualify for the promotion?
The following persons may not take part in this promotion even if they qualify to enter:
MasterStart or USB-ED employees, i.e. director(s), member(s), partner(s), employee(s), agencies, or consultant(s) relating to this promotion.
Any supplier of goods or services in connection with this promotion.
The spouse, life partner, siblings, children, or parents of any of the persons named above.
Persons who enrol for courses and programmes other than those explicitly offered by USB-ED through MasterStart.
Business to Business (B2B) customers / corporate sales / bulk buys / consortiums are not eligible for the giveaway.
To which programmes or courses does the prize apply?
All USB-ED programmes and courses offered on the MasterStart website (https://masterstart.com/) to the end consumer.
General
Entrants will be deemed to have accepted these rules and agreed to be bound by them when entering.
These rules are legal and binding upon entrants.
MasterStart reserves the right, at its sole discretion, to cancel, modify or amend the promotion at any time, if deemed necessary in its opinion or if circumstances arise outside of its control.
It is the participant's responsibility to ensure that any and all information provided to us is accurate, complete and up to date.
By participating in this promotion, you consent to MasterStart publishing any and/or all content submitted. This excludes personal information as per the POPI Act.
The clauses in these rules are severable. This means that if any clause in these rules is found to be unlawful, it will be removed and the remaining clauses will still apply.
These rules and the promotion are governed by the laws of the Republic of South Africa.