The recent Quarterly Labour Force Survey made for sobering reading for those concerned with youth unemployment in South Africa. Levels of joblessness have reached record levels with three in every four South African youths out of work. While other areas of the economy are thriving, it put into sharp focus the challenges still faced by young people despite the progress made since the 1976 protests tackling unfair and unequal access to education. Educating our youth equips and guides them to reach their potentials and develop our communities and country.
Making up a whopping 40% of South Africa's population, young people have been considered the most disadvantaged group when compared to other age categories when it comes to viable employment options, skills development and access to quality education.
With the recent publication of the alarming statistics on the Youth Employment rate, we need to consistently take action and empower young people to rise above these challenges and find sustainable solutions to improve socioeconomic conditions. So how do we do this with online learning as a solution?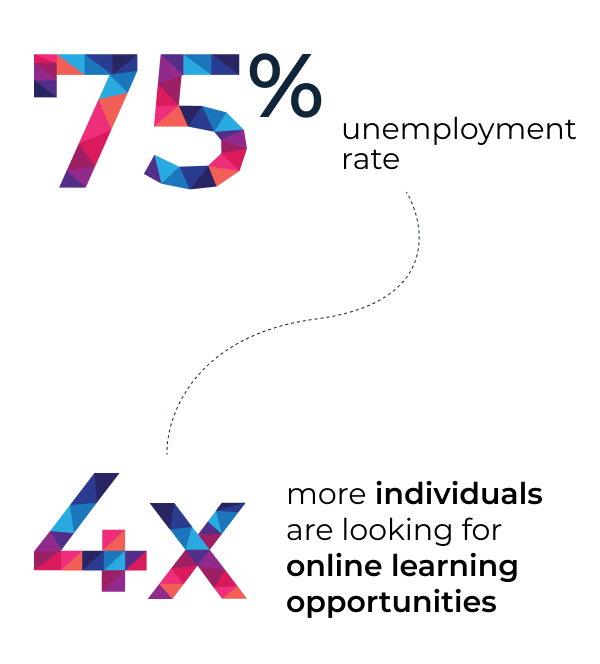 Skills Development
Skills development is a vital tool to empower and uplift all people in society. Developing and honing skills can lead to new and better opportunities, establish a solid foundation for our youth to expand their capabilities, encourage higher levels of competency and equip teens and young adults to be sufficiently prepared to manage home, work, school and other responsibilities.
Preparing young people to be future-ready employees and leaders better provides the foundation to positively influence economic growth, break down poverty cycles and establish long term successful life plans.
Accessibility
A distinct divide in South Africa is ensuring that children and families from rural areas have access to high-quality and relevant education and information. This is where we need to focus and highlight the importance of being able to learn in a supportive and efficient format from wherever you are. As an online learning platform, we are consistently working to make our programmes more accessible through better mobile usability and reducing data requirements, while providing industry-leading programmes designed to equip our learners with the skills and tools to thrive in a career. At the heart of MasterStart, we are focused on offering flexible online learning, practical and supportive information and knowledge-gaining opportunities.
Online Learning Resources
Being passionate about developing our learners, online learning makes space for a wide range of accessible and cost-effective course material that needs fewer resources to conduct. From anywhere in the world, with a stable internet connection, learners can partake and engage with industry experts and world-class instructors, where they may have never had the opportunity in rural or hard to reach areas. Set to be flexible and offer a balance between work/learning or home/learning, MasterStart students develop new skills and learn from course faculty and their peers in a safe and collaborative environment.
Support & Empower
Collaborating and partnering with Africa's leading providers of executive and business education, the MasterStart Mandate is to offer a humanised approach to digital learning. Our uniquely supportive approach and methodology is to go beyond skills development and holistically form a link between learners, course content, faculty leaders and the acquisition of tangible tools that serve our students for many years ahead. Supporting our South African youth and young learners, we are focused on uplifting, developing and empowering learners to be future-forward leaders.
"Be the change you wish to see in the world." Mahatma Gandhi
Sponsor
While massive progress has been made in our education system since the Youth protests of June 16 1976, there is much more work that can be done to reduce inequality and provide accessible education. This is where we call upon YOU to make a lasting difference and actively change the lives of fellow South Africans. In the spirit of Ubuntu, we need your help with sponsoring places on a career-focused MasterStart programme to reduce and improve the current missing skills and development that many of our younger generations are facing.
By providing a space that participants can thrive, grow and evolve in, we can make a massive difference, together.
Find out more about sponsoring a skills development programme with MasterStart – https://masterstart.com/youth-day/