Did you know there are four types of leadership styles? Often, a leader doesn't just adopt one of these styles, but all four are present in their methods of management. And, did you know that their style changes based on a number of factors? That's right; leaders are a little more calculated than one might expect, but it's for the good of the team and the vision and that strategic approach ultimately part of the characteristics of a leader.
The four types of leadership styles:
Direct,
Coach,
Support, and
Delegate.
While these leadership styles may not mean much to you right now, they are certainly worthwhile considering when you enter into a leadership role.
These four styles of leadership determine the level of decision-making authority you, as the leader, give to individuals in your team. Each individual will be given different levels of 'authority' when it comes to decision making, and this is based on the nature of the task at hand, and the individuals role, experience and emotional maturity.
Take a look at the leadership framework below to wrap your head around these four styles, and their 'level' of support and direction: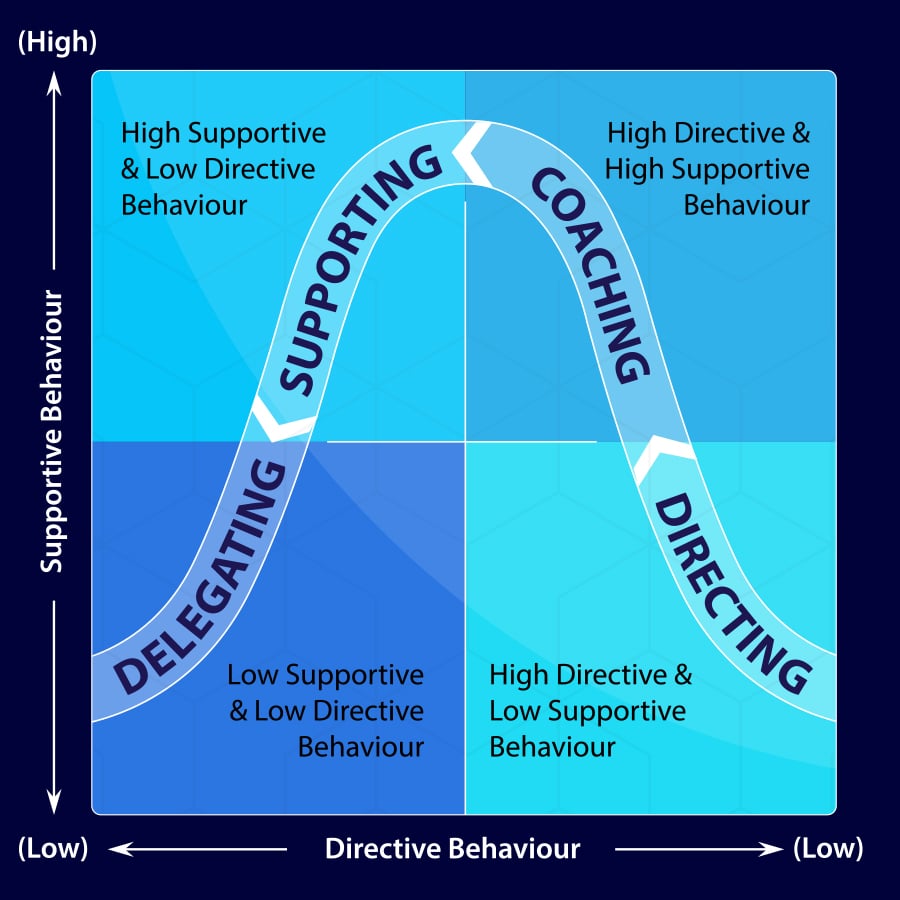 Leadership style #1: Directing
True leadership skills are not required when one is telling another what to do; how to do it and when it needs to be done. This makes this style more of a management tool than a leadership tool.
The 'directing' style is useful when: one is working with freelancers or contractors for example. When work is outsourced; and you have a clear idea of what you need done; and what the outcomes should be, you would use a 'telling' style. In this case there needs to be a clear direction (in order to communicate what you want), however, there needn't be a high level of support.
The 'directing' style would not be useful when managing a direct team, as it would hinder growth and prevent the development of an inspiring team culture.
Leadership style #2: Coaching 
Leaders are visionaries; they build a vision, and direct their team to achieve the vision. However, in order to successfully direct their team and accomplish the objective, they first need to sell their idea and vision to all those involved in bringing it to fruition. This is not only done to effectively communicate the objectives, but to also excite, motivate and get team members believing wholeheartedly in the endeavour.
The 'selling' style is useful when: you, as the leader, are introducing a 'new' or refined vision. Although the vision was not formed by the team members; you need their buy-in to ensure they're motivated to perform, and achieve the end goal.
This style is best used when the team is made up of individual contributors that are full-time employees.
Leadership style #3: Supporting
Collaboration is about working together: sharing ideas, suggestions and solutions within a group; but having the final say, as the leader. This is a rather inspiring leadership approach, as each team member is considered, and feels they are contributing in the decision-making process. Because the style is low on direction (from the leader), it gives the individual space to prove themselves and lead the process; and because there's a lot of support, they are not held directly accountable for the outcome, should it fail.
The 'collaborative' style is useful when: a task needs to be carried out but does not need the initial involvement of the leader until a decision needs to be made. For example: when one of your team members are hiring an employee – they have full control over the recruitment process (interviewing/screening etc), but you as the leader have the final say, based on their input, ideas or suggestions. The 'collaborative' leadership style is best used when leading a team of managers or directors; otherwise a team of individual contributors.
Leadership style #4: Delegating
'Delegating' is yet another leadership style best used when leading a team of senior leaders, directors or managers. Because there is little direction or support, the leader gives full authority to the individual or team to make the final decision.
The 'delegating' leadership style is useful when: you fully trust the decision-making abilities of the individual or group. This style is usually used by CEO's, who fully trust the capabilities of their directors or managers, due to their experience and emotional maturity. The 'delegating' leadership style is hardly ever used in teams made up of junior or mid-level staff, unless the decision is incredibly low-risk.