We mention it a lot – that human connection is our superpower and often don't publicly delve deep enough into what that means for our learners, where our courses fit in solving critical skills gaps and why we deliver our humanised learning experience the way that we do.
We've shifted from a standard or universal model of learning and to get to a place to confidently speak about a unique online learning experience that feels human – an experience that connects our learners to more than just information, ensuring that the skills that are developed on any of our MasterStart courses in collaboration with leading universities and business schools, make sense academically and can be directly and immediately applied in your workplace.
The MasterStart Model
Dr Alexia Cox, our Chief Learning Officer and her team have carefully curated our courses and sum up the 5 pillars that underpin our MasterStart courses and humanised learning experience:
Connected Learning
In a fast-changing world where professionals are looking to gain skills to grow in their workplaces – it is so important to be connected to the right people, at the right time, to the right information and to the right products. Each learner starts their course with their own skills and knowledge, and MasterStart has created a safe space for peers to collaborate and connect, engage with industry experts, share their experiences, and real-world challenges and ultimately grow through a holistic online learning experience.
Linked Learning
We're bringing together academically sound content, university and business school certificates and industry-relevant and workplace-applicable skills. Learners explore and learn how to do something at an academic level that they can immediately apply in a real-world, business context and put them on the trajectory to develop in their careers
Intentional Learning
Going through the learning journey, every click, prompt, interaction and how our courses are structured is designed for learners to have their own "aha" moment. Our intentional online learning experience has kept the learner in mind every step of the way to take theory and put it into practice, applying what they have learnt at the time in their role and in their companies.
Social Learning
Albert Einstein once said that "Having fun is the best way to learn" and we couldn't agree more. Having fun and being interested in what you are learning about increases your brain activity, improving your ability to learn, retain and recall information. Engaging and collaborating with your peers and industry experts, together, obstacles are broken down, fear decreases and learners' confidence grows to apply what they have learnt.
Supported Learning
When we speak about human connection, we're not bombarding learners with humans at all times. We're providing continuous support. Our Learner Success Coordinators are present and support learners on courses – personal champions to get you through each week, quiz, live session and assignment submission. If you are supported, you are open to learning and implementing your skills in your work environment.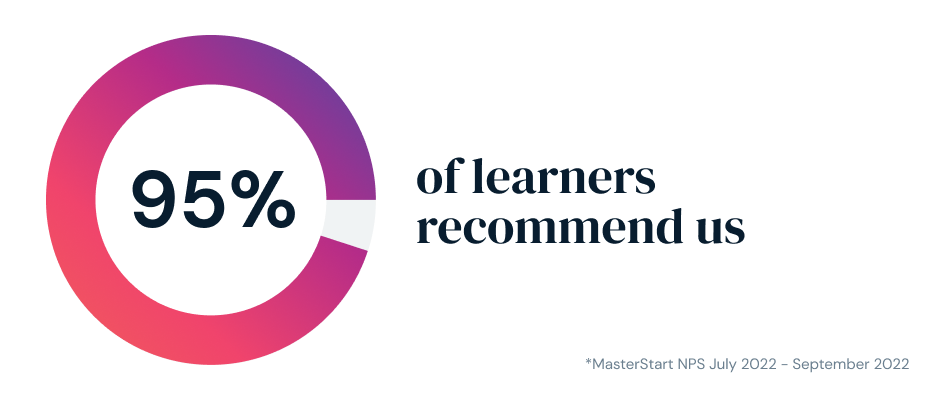 Human connection in online learning means learners never feel alone, no matter where you are, what your everyday role is and how much time you can commit to optimising and gaining new skills.
Why does this work?
From initial course interest and sign-up, learners will experience a skills analysis conversation with our Enrolment Team, ensuring that you are joining the right course from the start. We've connected the right pillars to create a truly unique online learning experience that is proven to be effective in learner success rates.
We have seen a rapid increase in course enjoyment, peer-to-peer engagement and feedback from learners on how their courses have directly and positively enhanced their work environments. Onboarding how busy professionals learn, what is important to them and how we can connect in a virtual world, directs our approach at MasterStart.