Operations and project management are easily confused terms. While they share some characteristics, there are important differences when it comes to execution in the workplace. If businesses – regardless of size – want to optimise the bottom line, understanding where these two functions collide and separate is essential. Let's unpack.
What is operations management?
Operations management is a job in itself and refers to the overall functions involved in directing, overseeing, and controlling the essential operations that keep a business running. These include project management as well as the management of processes relating to manufacturing, accounting, IT support, supply and delivery, maintenance, and human resources. The goal is to increase profitability by streamlining business processes.
What is project management?
Project management falls under operations management. You'd imagine an operations manager could take on managing projects as part of their KPI, but it's not that simple. Project management comes with a host of responsibilities that could easily fall through the cracks if they aren't on track. Simply put, project management is a temporary function that ensures the production and completion of a single service, product, or result.
How can a project manager support operations? According to a recent global research report by the Project Management Institute (PMI), there are five capabilities critical to the successful delivery of projects: collaborative leadership, relationship building, creative problem solving, strategic thinking, and commercial awareness. When project managers put these capabilities into practice, it's clear how they underscore operations and allow the business to achieve its goals.
Where operations and project management overlap
What operations management and project management have in common is both are aimed at increasing business efficiency and output. On a more granular level, both these business functions involve tasks, projects, processes, costs, goals, and human resources.
Looking at projects as a sub-function of operations, there are a number of phases: conception, scoping, estimating, developing, executing, control, monitoring and completion. During a project's life cycle, some of these phases will intersect with the functions of operations management.
For instance, when developing or upgrading a product (a project), the project manager will work closely with operations to allocate a budget, decide on required skills and staffing, and schedule the job to fit in with the business's overall operations.
Where operations and project management differ
When you compare and contrast operations management and project management and how to approach these, you'll quickly notice that both the goals and scope of work differ. It's important to remember that a project is always time-limited, whereas operations literally never stop.
Looking at the 'how' and 'why' of operations and project management allows you to unblur the line between the two.
Here are the main differences – and how they overlap – based on their approach and goals: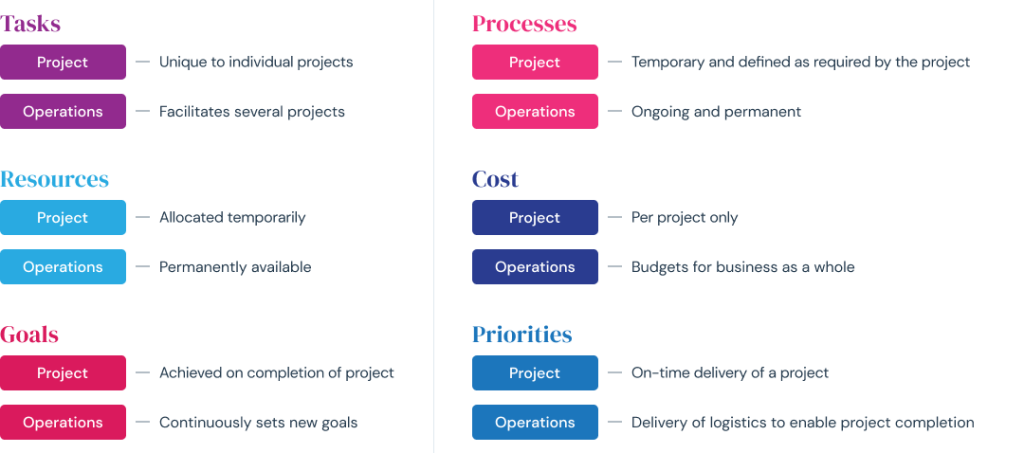 The right person for the right job – how upskilling benefits business
All businesses, regardless of size, have to draw clear distinctions between the responsibilities attached to projects and operations and ensure skilled and qualified people are assigned to manage them.
Why is it so important in your business, and how can upskilling streamline your business and increase your profits?
Let's look at it this way. The goal of both project and operations management is efficiency: doing as much as possible in as little time as possible with as few people as possible. When operations managers create processes, templates, and procedures for projects, they can reuse them on every project. The result is increased productivity, reduced costs and workload, and projects delivered on time.
There are other benefits, too. When everything related to a project is structured, and team members know exactly what they need to do and when they need to do it, it improves collaboration from the ground up. It also allows you to track the performance and results from project to project.
Lastly, efficient project management allows managers to control all the moving parts and identify and resolve problems before they spill over and jeopardise operations.
When skilled project and operations managers work together yet remain focused on their own deliverables, businesses set the groundwork that enables them to stay competitive and succeed in a highly competitive world. It's that simple.
Become an operations manager in eight weeks
If you've always dreamt of a rewarding job as an operations manager or are in the business but want to upskill and improve your knowledge, take a look at MasterStart's Operations Management Course. It can be completed in just eight weeks of studying online! Visit the Operations Management course page to learn more.