It has become increasingly evident that business and management development training is crucial for any organisation, big or small. As technology advances, businesses are under more pressure to keep up with the new wave of innovation that will impact their operations and bottom line.

To stay relevant, top of mind, and agile enough to compete in today's fast-paced world, it is critical that businesses have the correct strategic knowledge in their human resources skills stack.
Investing in Business and Management Development training may provide the vehicle your company needs to drive success. We discuss three topics covered in our Business and Management Development short course.
1. Understanding Porter's Five Forces
2. Confident decision making
3. The difference between leading and managing
1. Understanding Porter's Five Forces
The Five Forces model is widely used to analyse the industry structure of a company and its corporate strategy. Michael E. Porter identified in his book "Competitive Strategy: Techniques for Analyzing Industries and Competitors" five undeniable forces that play a part in shaping every market and industry in the world, with some caveats – of course.
Michael's five forces are used to measure the following:
Competition in the Industry
Potential of New Entrants into an Industry
Power of Suppliers
Power of Customers
Threat of Substitutes
Competition in the Industry
This refers to the number of competitors and their ability to undercut a company. The more competitors a business has and the number of equivalent products and services these competitors offer, the lesser the competitive edge of that business. Suppliers and consumers cherry-pick out a business's competitors if these competitors can offer a better deal or lower prices. On the flip side, when competitive rivalry is low, a business has greater power and can charge higher prices and set more beneficial deal terms to achieve higher sales and profits.
Potential of New Entrants into an Industry
A business's competitive edge is also affected by the force of new entrants into its market. The more cost-effective it is for a competitor to enter a business's market and be competitive relative to the existing business, the weaker and established the business's position will be in the market. An industry with strong barriers to entry is ideal for existing companies since the business would be able to charge higher prices and negotiate more beneficial terms of service.
Power of Suppliers
The next factor in the five forces model addresses how easily consumers and suppliers can drive up the cost of products. This is impacted by the number of suppliers of key deliverables of goods or services, how unique these deliverables are, and how much time and capital it would cost a business to change suppliers. The fewer suppliers in an industry, the more a company would depend on a supplier. As a result, the supplier has more power and can drive up the cost of the deliverable and push for other advantages. On the flip side, when there are many suppliers or low switching costs between rival suppliers, a business can keep its prices lower and enhance its profits.
Power of Customers
The saying the Customer is king holds true in this factor. Consumers have, through their buying power, the ability to drive prices lower or higher. This power is affected by how many buyers or consumers a business has, how significant each consumer is, and how much it would cost a company to find new consumers or markets for its deliverables. A smaller and more robust consumer base means that each consumer has more power to negotiate for lower prices and better deals. A business with much smaller, independent consumers will have an easier time charging higher prices to increase profitability.
Threat of Substitutes
The last of the five forces focuses on substitutes. Substitute goods or services that can be used in place of a business's products or services is a danger. Companies that produce goods or services with no close substitutes will have more power to increase prices and lock in more beneficial sales terms. When close substitutes are available, customers will have the option to skip buying a company's product, and a business's power can lose potential sales.
Porter's Five Forces key takeaways:
The model serves as a basis to analyse a company's competitive environment.
It quantifies the number and power of a company's competitive rivals, potential new market entrants, suppliers, customers, and substitute products that influence its profitability.
The Five Forces analysis can be used to guide business strategy to increase competitive advantage.
As with all models, Porter's Five Forces does have its oversights; Business Managers need to understand and navigate these as they present themselves.
2. Confident decision making
Decision-making is an essential management skill that can both drive and impede financial performance. According to research by management consulting firm McKinsey, organizations with fast and efficient decision-making processes are twice as likely to report financial returns of at least 20 percent as a result of recent decisions.
McKinsey's research also shows that inefficient decision-making can lead to more than 530,000 days of lost working time and $250 million wasted labour costs per year.
Here are five tips to help you make effective decisions:
Perform Regular Financial Statement Analysis
Estimate the Financial Impact of Projects and Initiatives
Budget your team's time with a strategy in mind
Involve Your Team in Decision-Making
Track Financial Performance
Perform Regular Financial Statement Analysis
Financial statements are among the most important resources at Business Managers disposal when it comes to decision-making. A Business Manager should know how to read them and interpret them, and use them as a strategic advantage. In MasterStart's Financial Management short course, we delve deeper into analysing and crafting these documents.
Estimate the Financial Impact of Projects and Initiatives
Conducting a cost-benefit analysis is another way Business Managers can use finance to make better business decisions. Using data to drive decisions as a framework is critical to making sound evidence-based business and strategic decisions. This approach breaks down complex business decisions and chooses to pursue projects expected to yield the best outcomes.
Budget your team's time with a strategy in mind
By breaking down a team's work into a detailed set of deliverables during the budgeting process, Business Managers can track your spending against estimated expenses and, when necessary, pivot their project management strategy to ensure tasks are completed on time and on budget. Our Project Management short course equips Project Managers and Business Managers with the grassroots skills to drive deliverables and budget effectively across projects.
Involving Teams in Decision-Making
Considering options and collecting a list of alternatives is an essential step in the decision-making process. By involving teams in business decisions, Business Managers and Businesses, in general empowers the individuals in the group and potentially, opens up options and alternatives that may not have been considered. According to research by software company Cloverpop, teams make better decisions than individuals 66 percent of the time.
Tracking Financial Performance
Business Managers need to be armed with the knowledge of the company's past and present financial performance indicators (Gross Profit Margin, Working Capital and return on equity). This empowers the Business Manager to make sound decisions. Strategic decision making and monitoring the success of decisions made in the past and current market helps shift goals and strategies towards the business's financial KPIs driving success-driven change and planning.
3. The difference between leading and managing
The key to a successful business is finding a way to be both a leader and manager at the same time. Leadership and management skills enable an individual (or company) to handle multiple tasks effectively and develop the relationships necessary for long-term success.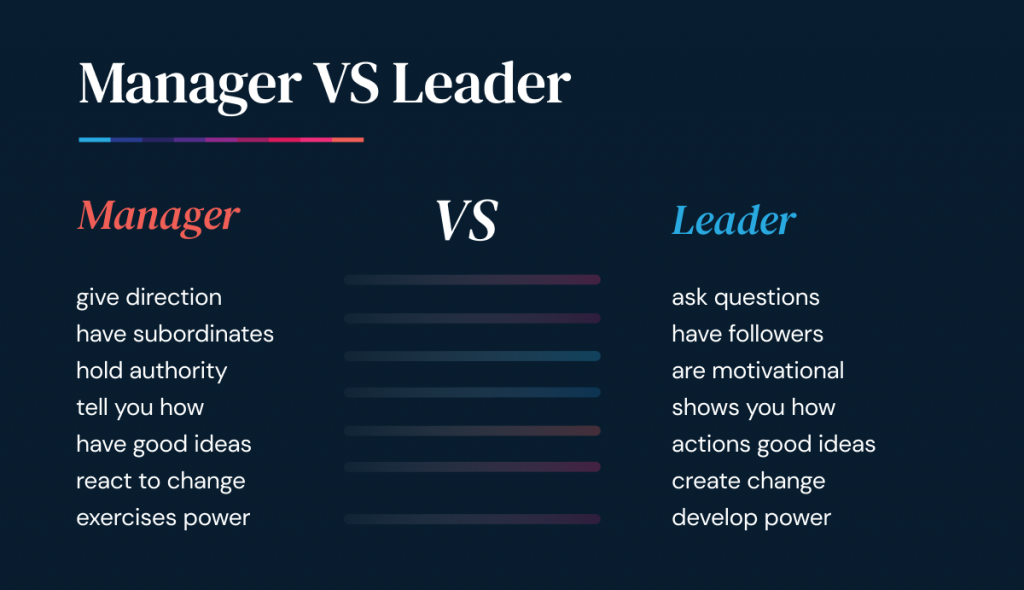 Mentoring and formal training can help employees utilise and use their leadership skills. According to research by the Chartered Management Institute, 90% of members who have completed a management and leadership qualification found the experience improved their performance at work.
There was also a "ripple effect", with 81% of the surveyed group passing their knowledge to colleagues.
Celebrating individual leaders can also cause some to forget that it is never just one person running the show. Not everyone who is in charge of a team is both a leader and a manager. Within a successful organisation, there needs to be a mixture of both and therefore celebrating all individuals who were a part of that achievement. Many people are both leaders and managers. Having managed people but along the way realised that it is not possible to buy people to follow you down a difficult path then start to act as leaders. The challenge then lies in making sure that managers are both leading teams and managing their day-to-day operations.
Those who are able to do both, will create a competitive advantage for the business.
In Conclusion:
Skilled Business Managers are critical to driving business growth and strategy in the 21st century for companies to adjust to modern demands. They do not need to overspend or search far and wide for the skills required. The right person is often found in the folds of the company itself. Investing in your workforce and buying into training programs that teach workplace relevant skills is more critical now than ever.
Read more articles on Business Management:
Introduction to Business Management: What You Need to Know
What are the top 5 leadership skills in business management?
What can you expect from a business management salary?
Business Management: The Complete Guide to Organisational Leadership
The benefits of business management
Study business management for the leading edge
5 skills you need to fast-track your career in business management
Are you new to business management?